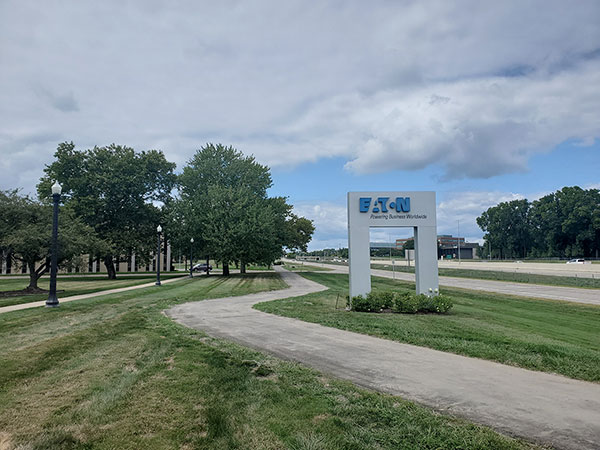 The last leg of Southfield's City Centre Trail expansion has been completed. The final one-half mile stretch, meandering past Eaton Corp., runs southbound along Northwestern Highway service drive between Lahser and Civic Centre Drive. This new segment now makes it possible for walkers, joggers, cyclists and those relying on wheelchairs and strollers to safely travel 2.6 linear miles from Lahser to Nine Mile Road. "Ultimately our goal has been to connect Southfield City Centre to the Downtown Development Authority district and to connect Lawrence Technological University and the Municipal Campus with Ascension Providence Hospital and Northland City Center – all by non-motorized pathway," says Terry Croad, director of planning for City of Southfield.
Creating safe pathways for non-motorized transportation has been a longstanding priority for the City. Residents wanted heart-healthy trails for year-round exercise. The business community wanted amenities for their workforces, including the ability to get to work, dining and recreation without needing a car, and LTU students wanted to walk and bike safely beyond their university campus. "During the last decade, the City has added more than 20 linear miles of new pathways," Croad explains.
The Planning Department has a formula for identifying where to locate pathways and how to create a consistent look and feel. First priority is determining areas that offer a high density of residents and businesses and also strategic connections to regional pathways. Next step in its formula is infrastructure – actually building the pathway – and then layering on the distinctive attributes that contribute to safety, engagement and enjoyability: signage, trail markers, interpretive panels, trees, pedestrian respite stations (benches and waste receptacles), bike facilities (repair and rental stations), and placemaking features such as public art, whimsical birdhouses, dog treat stations and waste receptacles. Currently these features are being added to the new stretch of trail that encompasses Eaton Corp.
In addition, two half-mile segments are just getting underway. One will extend Southfield City Centre Trail by another half mile along southbound Northwestern Highway from Nine Mile Road to Cornell in the Magnolia neighborhood. Eventually this pathway will reach the perimeter of the soon to be redeveloped Northland City Center. A second half-mile stretch will border Bauervic Woods Park on Nine Mile and contribute to the City's next pathway development priority: creating a Nine Mile corridor that connects Southfield with Oak Park and Ferndale to the east and Farmington to the west.
In addition to facilitating healthy living and advancing economic development, Croad likes to make the case that well-used pathways for non-motorized transportation also help reduce greenhouse gas emissions and curb climate change. He cites four statistics:
Almost half of all car trips in U.S. cities are three miles or less.
About 20 percent of car trips in U.S. cities are less than one mile.
For every gallon of gasoline saved, the atmosphere is spared 22 pounds of additional CO2, a greenhouse gas.
On average, adults burn 100 calories for every mile walked.
"The average American can walk a mile in 20 minutes or bike a mile in five minutes," Croad explains. "We can eliminate almost one-half of auto trips in cities IF we provide the pathways and accessibility and safety for people to do that. And that's my ultimate goal."