The Lawrence Technological University hosted the National Association of Intercollegiate Athletics' National Championship Tournaments for Men's Bowling and Women's Lacrosse and each team was victorious. "To win a national championship one time in your school history is huge," says Scott Trudeau, LTU athletic director. "We just so happened to win two in the same school year."
The Blue Devils hosted the men's bowling tournament in March and the women's lacrosse tournament in May. Each tournament drew teams from around the country and hundreds of student, parent and fan supporters to campus and Southfield City Centre. What makes the wins all the more noteworthy are the technological degrees the students are pursuing. "Our student athletes have a 3.22 overall grade point average," Trudeau says. "They are here first and foremost for their academics."
Men's Bowling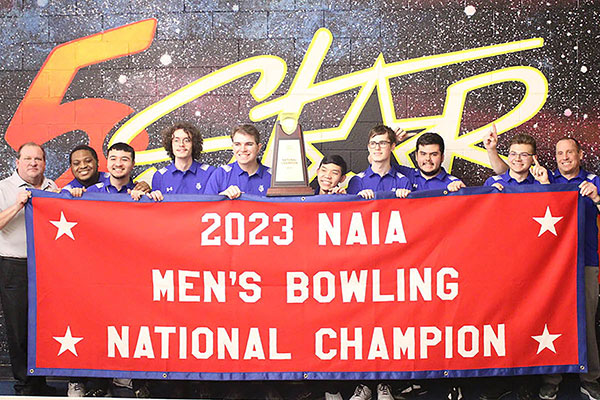 Men's Bowling has competed in five national championship tournaments – and won for the first time this year. Early in the playoffs, the team was knocked into the "loser's bracket," explains Head Coach Jonathon Putti, a 1988 LTU graduate. That meant LTU had to beat enough teams to reestablish itself in the winner's bracket. Because this was a double elimination tournament, the Blue Devils then had to beat the team that sent them to the loser's bracket twice in order to clinch the title. "Trying to beat any team twice at that level is not easy," Putti adds.
Senior Jacob Kujawa led the team as co-captain and was named Most Valuable Player. He graduated in May with a degree in civil engineering. Connor Nowak, a sophomore and molecular and cellular biology major, was named All Tournament Team Member. "When it comes to the kids," Putti says, "they were a true team."
Women's Lacrosse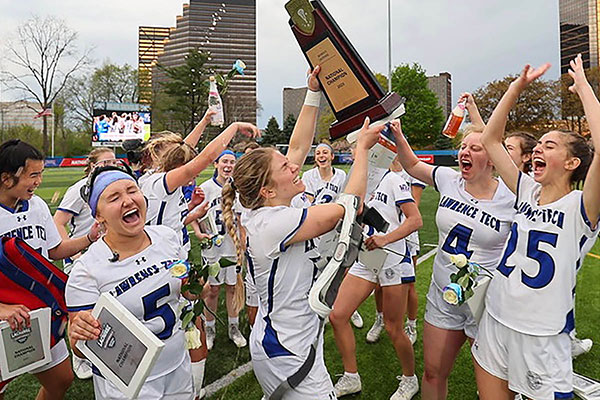 With 10 seconds to go in overtime play, the Women's Lacrosse team beat Savannah College of Art and Design 16-15. Last year, the undefeated, number-one-ranked Blue Devils were expected to win the national championship. But a last-minute upset to Benedictine College ended that dream. This year, the team motto was "Unfinished Business" says Mary Ann Meltzer, associate athletic director and women's lacrosse head coach. Winning the regular season and the conference tournament did not satisfy the players; they were determined to be national champs, she says, and this time they defeated SCAD. "Winning at home against a team we'd never beaten, there really are no words to describe it,' Meltzer says. "To do it in overtime was that much better."
Senior Bella Burke, a midfielder, was named Most Valuable Player. She graduated in 2022 with a degree in molecular and cellular biology and is pursuing a graduate degree in biomedical engineering. Alaina Smythe, a sophomore midfielder studying biomedical engineering, scored five goals, including the winning goal.
Meltzer, who transitions to athletic director on July 1, says the tournament wins have increased the national visibility of LTU and Southfield.