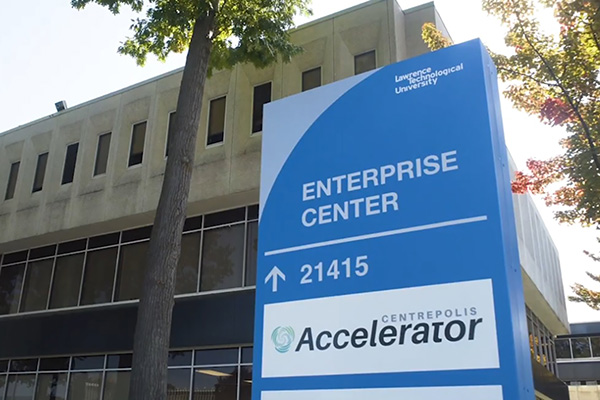 The Centrepolis Accelerator at Lawrence Technological University has won a $150,000 Stage Two Growth Accelerator Fund grant from the U.S. Small Business Administration's Office of Investment and Innovation.
Centrepolis was one of only 35 awardees nationwide, two of which were in Michigan.
The SBA's Growth Accelerator Fund program aims to boost equitable investment in innovative startups and high-growth small businesses. Priorities of the program are National Security and Global Competitiveness; Domestic Manufacturing and Production; Climate and Renewable Energy; and Underserved Communities.
Centrepolis is one of just a handful of hardtech accelerators nationwide focusing on developing physical products, not software and services. Its award came under the domestic manufacturing priority.
The SBA award enables Centrepolis to dedicate grant services to develop physical products for tech companies in the Upper Peninsula in partnership with the UP's designated SmartZones, MTEC in Houghton, Innovate Marquette, and Sault Ste.Marie, along with UP universities and other economic development partners, including Invest UP and Shophouse Park.
"Since our launch in 2018, the Centrepolis Accelerator has launched over 100 new products made in Michigan, resulting in the creation of hundreds of jobs and over $36 million of contracted business to Michigan's supply chain," said Centrepolis Accelerator Executive Director Dan Radomski. "This grant will help us assist even more companies across the state with a focus on developing and manufacturing products in the Upper Peninsula of Michigan."
SBA Administrator Isabella Casillas Guzman said the grants "will help ensure high-growth small businesses and innovative startups have access to resources and networks to scale in critical technologies across America."
In 2023, the SBA introduced a new two-stage format for the Growth Accelerator Fund Competition. In May, Stage One winners received $50,000 to build capacity and connections across the U.S. innovation ecosystem, and the SBA encouraged them to apply for Stage Two grants. During Stage Two, the SBA will provide $150,000 to ecosystem partnerships led by Stage One winners to support high-growth STEM and R&D-focused small businesses.
"These new Growth Accelerator partnerships will strengthen collaboration among local and national entrepreneurial organizations committed to enhancing the chance of success for science and technology driven companies to turn their innovations into impact," said SBA Associate Administrator for Investment and Innovation Bailey DeVries.
A complete list of winners can be found here.
Since its launch in 2014, the Growth Accelerator Fund Competition has awarded 387 prizes totaling more than $19 million to 284 winners across 50 states and U.S. territories. For more information visit https://www.sbir.gov/accelerators
About the U.S. Small Business Administration
The U.S. Small Business Administration makes the American dream of business ownership a reality. As the only go-to resource and voice for small businesses backed by the strength of the federal government, the SBA empowers entrepreneurs and small business owners with the resources and support they need to start, grow, or expand their businesses, or recover from a declared disaster. It delivers services through an extensive network of SBA field offices and partnerships with public and private organizations. Learn more at sba.gov.
Lawrence Technological University is one of only 13 private, technological, comprehensive doctoral universities in the United States. Located in Southfield, Mich., LTU was founded in 1932 and offers more than 100 programs through its Colleges of Architecture and Design, Arts and Sciences, Business and Information Technology, Engineering, and Health Sciences, as well as Specs@LTU as part of its growing Center for Professional Development. PayScale lists Lawrence Tech among the nation's top 11 percent of universities for alumni salaries. Forbes and The Wall Street Journal rank LTU among the nation's top 10 percent. U.S. News and World Report list it in the top tier of the best Midwest colleges. Students benefit from small class sizes and a real-world, hands-on, "theory and practice" education with an emphasis on leadership. Activities on Lawrence Tech's 107-acre campus include more than 60 student organizations and NAIA varsity sports.