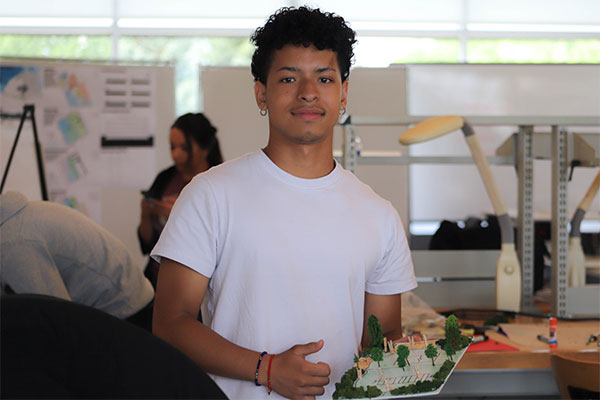 Nine students from Southeast Michigan, Chicago and Brooklyn, New York, registered for "Placemaking through Landscape Design" a week-long summer camp organized by Lawrence Technological University, the Michigan Chapter of the American Society of Landscape Architects (ASLA) Diversity, Equity and Inclusion Committee, the City of Southfield and Southfield City Centre. The camp, which began July 17, aims to introduce BIPOC (Black, Indigenous, People of Color) and underserved students to landscape architecture and encourage them to consider the field as a career choice, says Terry Croad, AICP, ASLA and director of planning for the City of Southfield. "We also expose students to the various professions in which landscape architects work, such as the private, public and non-profit sectors as well as education and research,"
Students, working in teams, were tasked with designing a teen park at Carpenter Lake Nature Preserve off 10 Mile Road in Southfield. They learned how to identify the site's opportunities and constraints, develop a schematic design to illustrate their concept or "big idea," and create the design-development plan necessary for construction. On the afternoon of the last day, each team presented a site plan to a jury of professionals and their camp mates. Safety features, enhanced streams and ponds, accessibility for visitors with disabilities, multi-purpose sports areas and playgrounds, use of murals to provide noise reduction and local public art, solar panels to cover parking areas and generate electricity – these were some of the components of the teams' design plans. A jury of professionals asked follow-up questions and noted novel attributes. "That is a charming design for birdwatching," commented Joane Slusky, PLA, ASLA, ASID, a landscape architect and jury member.
This was the second year the camp was offered. Each year, organizers make affordability a priority. The $100 registration fee is made possible, in part, by the many professionals who volunteer their time. In addition, the Michigan Chapter ASLA Foundation provides two Diversity, Equity and Inclusion scholarships of $2,500 each to BIPOC students studying landscape architecture at Michigan State University or the University of Michigan.  Aubrey Collins, a recent graduate of Martin Luther King Jr. Senior High School, who plans to attend Purdue University, came to the camp already interested in pursuing a career in landscape architecture. "I wanted hands-on experience first," he said.