Lawrence Technological University Cuts the Ribbon on a New Robotics and Factory Automation Laboratory
https://southfieldcitycentre.com/wp-content/uploads/2023/03/LTU-article-email-pictures-V2-1.jpg
1200
600
sccadmin
https://secure.gravatar.com/avatar/93c049233ae4b274f7b3b443765808b9?s=96&d=mm&r=g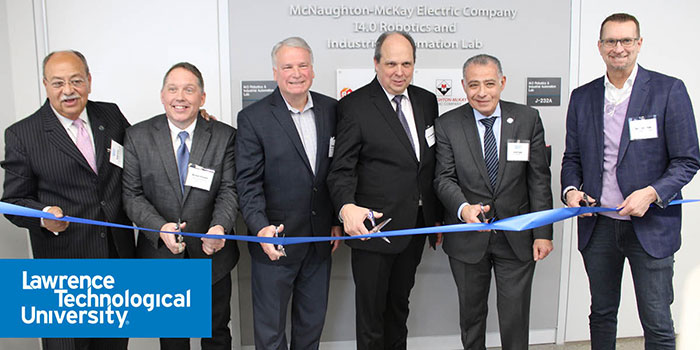 Lawrence Technological University has cut the ribbon on a new robotics and factory automation laboratory that the companies that helped create it say is unique anywhere in the United States.
The Rockwell Automation/McNaughton-McKay Electric Co. I4.0 Robotics and Industrial Automation Laboratory features world class control architecture, controller based safety, mechatronics, and more. It's a million-dollar-plus investment by LTU and its industry partners in training LTU industrial engineering and computer science students how the factories of tomorrow will be designed, optimized, and run.
Inside a steel safety cage, Kuka industrial robots simulate assembly line and warehouse operations, controlled by Rockwell software and programmable logic controllers installed by McNaughton-McKay. Also in the lab is machine vision and inspection technology from Oak Park-based Detect-It and Rochester-based Deepview. The lab also uses Rockwell virtual reality software called Emulate 3D, creating a virtual twin of the lab, where students can test manufacturing simulations before trying them in the physical assembly line.
The lab will be used by several LTU engineering and computer science programs.
In other LTU news:
LTU's Centrepolis Accelerator has received a $450,000 grant from the Fred A. and Barbara M. Erb Family Foundation. The grant is intended to help small and medium-sized manufacturers increase their adoption of sustainable business practices that will both improve the condition of the environment and boost their economic competitiveness.

New free help is available to a wide range of Michigan organizations looking to reduce waste and improve sustainability and energy efficiency. The Michigan Department of Environment, Great Lakes, and Energy and Lawrence Technological University in Southfield have partnered to launch the RESTART Program @ LTU. RESTART stands for Retired Engineers, Scientists, Technicians, Administrators, Researchers, and Teachers. Under EGLE's guidance, RESTART offers free onsite energy efficiency and sustainability technical assistance and assessments to small and medium-sized commercial businesses headquartered in Michigan with 500 or fewer employees, and public entities including K-12 schools, municipalities, and not-for-profits. 

A grant of $300,000 to Lawrence Technological University's Centrepolis Accelerator and another grant of $112,000 to the University of Michigan's Economic Growth Institute has produced a new online database of Michigan's key renewable energy resources for the Michigan Department of Environment, Great Lakes, and Energy. The web pages ares intended for use by elected officials, government employees, business owners, planners, developers, industry and commercial stakeholders, and the public.

Faculty in Lawrence Technological University's College of Arts and Sciences are collaborating with the Detroit Area Pre-College Engineering Program for a fun, hands-on Saturday chemistry program. The LTU-DAPCEP Saturday Chemistry Program is a 3-year initiative for approximately 20 DAPCEP 10th grade scholars on the LTU campus. During the Spring 2023 semester, DAPCEP students will be introduced to basic chemistry concepts and hands-on experiments. In the Fall 2023 and Spring 2024 semester, and in Fall 2024 and Spring 2025, students will learn more advanced chemistry concepts and apply what they learn to complete research projects. Students who complete the program successfully will be eligible to receive a four-year scholarship worth $78,000 if they decide to attend LTU and major in a variety of STEM disciplines.

Hyundai-Kia Technical Center Inc. in Ann Arbor has donated battery testing equipment worth an estimated $80,000 to the Department of Electrical and Computer Engineering in Lawrence Technological University's College of Engineering.The equipment can be used to test batteries for electric vehicles, emergency backup power, and utility-grid-scale power storage.